Acupuncture
Cupping
Guasha
Tuina Massage
Relaxation Body Massage
Deep Tissue and/or Sport Massage
Foot Reflexology Massage
Chair Massage
Pregnancy Massage (from 12 weeks)
We provide the best Chinese Massage in Town!
History of Chinese Tuina and Massage: Traditional Chinese massage dates back about 4,000 years ago along with the earliest Chinese medical therapy. Massage appears to have developed alongside the therapeutic exercise qigong and acupuncture, sharing the same understanding of the meridians and the flow of qi in the human body.
What to expect from Chinese Massage? Traditional Chinese massage is not intended to be an experience of pampering or relaxation. Though some people would like to have relaxation experience with adjusted pressure to maintain the health condition even when they are healthy. The majority of people would like to have the treatments of deep tissue or the combination of relaxation and deep tissue to relieve of pain, stress or tightened muscle tissues.
During the massage, dry cupping can be applied on the areas where extra attention is needed. This aims to open up the qi and blood blockages, promote better flow of qi and blood, create more space between tissues, and eventually relieve of pain and tension.
The benefits of Chinese massage:
Promoting the free flow of qi (bio-energy)
Stimulating and improving blood circulation
Speeding the healing of injuries and clearing bruises
Regulating the nerve system
Soothing scar tissues
Easing emotional stress
Curing some conditions affecting the internal organs
Increasing flexibility in the joints and improving posture
Relieving chronic pain
Maintaining wellness and functioning as a form of preventive care
Improving athletic performance
Strengthening the body's resistance to disease
Acupuncturist and Chinese Tuina Massage therapiest — Nicolas. Nicolas is a Traditional Chinese Medicine physician, acupuncturist and professional massage therapist. He is specialized in treating stress related symptoms and all kinds of physical pain, including but not limited to chronic lower back pain, cervical/neck pain and headache/migraines.
Nicolas studied traditional Chinese massage and acupuncture in Chile from 2009 until 2013. During this time he also did a clinical internship in Guangzhou, in the south of China. After finishing his studies in Chile and working in public hospitals for two years, he decided to deepen his knowledge and gain more experience in the birthplace of Traditional Chinese Medicine and moved to China. He graduated from the Beijing University of Chinese Medicine with a bachelor degree, a TCM program fully in Chinese, and got extensive clinical practice in recognized hospitals in Beijing. Nicolas moved to the Netherlands in 2020 and continues his work and passion here in Amsterdam.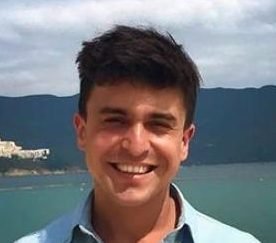 Attention! At De Eland Wellness House, all the massage therapists are well trained in house before they can start giving the massage treatment. Attention to the complaints in your body is serious taken in the professional way.